Germany - The Land of Poets and ThinkersFast Facts:
- The World's 3rd Largest Economy.
- The World's biggest Exporter & 2nd biggest Importer of goods.
- Capital = Berlin
- Population = 82 million
- Currency = Euro
Economic Overview:
Just for a second, believe that you are a Poet or a Thinker, and think 'Germany'........and see what comes to mind: Beer, very loud Techno Music and hair gel........?? Maybe :)
But the truth stands that 'Deutchland' (as it is affectionately known) is on the up........and on the up in a big way !!
This is why:
Germany has the largest economy in Europe and the third largest economy in the world, behind the United States and Japan.
It is ranked fifth in the world in terms of Purchasing Power Parity ( PPP ) (Note: PPP is based on the law of one price, which is the idea that, in an efficient market, identical goods must have only one price)
According to the World Trade Organization, Germany is the world's top exporter with $1.133 trillion exported, from the beginning of 2006. Most of the country's exports are in engineering, especially in automobiles (Mercedes, BMW, Audi - as is expected), metals, and chemical goods.
In the service sector, Germany ranks second behind the United States and in terms of total capacity to generate electricity from wind power, Germany is first in the world and it is also the main exporter of wind turbines.
Now you may think, 'That's all very well, but these are facts which are contrived and any country in the World will have 'at least something that they can be proud of and be able to quote them in neat little paragraphs as above'............(well, at least most countries :)
But this little lesson on Deutchland has not yet run its course, Dear Reader......please, read on:
Although problems created by reunification in 1990 have begun to decline, the standard of living remains higher in the western half of the country than in the eastern half.


Germans continue to be concerned about a relatively high level of unemployment, especially in the former East German states where unemployment tops 18% !! :(
Now here comes the important reasons 'Why Germany has not performed':

In spite of its extremely good performance in international trade, domestic demand has stalled for many years because of stagnating wages and consumer insecurity.

Germany's government runs a restrictive fiscal policy and has cut numerous regular jobs in the public sector. But while regular employment in the public sector shrank, "irregular" government employment such as "one euro" jobs (Jobs which are temporary & very low wage paying), government supported self-employment, and job training increased.

But there is a silver lining (At last they cry !!) :
The national economy has nonetheless shown signs of improvement in recent years, as the economics magazine Handelsblatt declaring Germany one of the most competitive in the Eurozone. Economists for the Institute for Economic Research in Berlin expect Germany's economic growth to increase consistently over the next few years.
Property Overview:

Now that the boring 'Economic Bla-Bla' is out of the way, let's get back to the interesting part and the reason why we're writing this Blog........Property !!!

When comparing a potential investment country, we should always look at the historic information that we have available, as we don't know what will happen in the future.........(for those who know what will happen in the future in international property, please drop me an e-mail so we can share :)

So here is the 'Historic Information Bit' :
In the past, a lot of investment in Berlin and the so-called Neue Bundesländer (New Federal Countries) had turned bad. Rents calculated as the basis of the investments were not attained, and whole buildings stood empty for long periods, despite their high quality.
At the same time the real estate market in much the former West Germany remained stagnant for much of the nineties.


However, in 2003 owner-occupied apartment prices in South-Western Germany, especially in smaller cities, began to recover.


But the housing market has turned around only in the most economically successful cities. (NB)


Munich prices have been rising, and the city now has perhaps the highest per square metre apartment prices in Germany , with Frankfurt and Berlin trailing behind.
Enough of all this writing, let's see some pictures !! (but they do have a purpose other than just looking pretty) :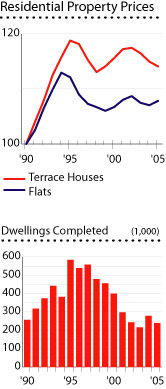 As you can see when looking at the graphs above, the market increased sharply after 1990 until 1995 (which was when supply was more than demand) when properties built was at a high.

Now that properties built have decreased considerably since 1995, demand will increase again due to demand being more than supply. So the very simple 'Law of Demand and Supply' can be explained here:
- Too many houses, less houses demanded and Prices decrease.
- Too few houses, more houses demanded and Prices increase.


Over the last decade rents have been stagnant or have fallen. Rents today are still 13% lower in nominal terms than at their 1994 peak, and have declined very significantly in real terms.



However, the fall in rental levels has been less than the decline in property prices, leading to higher yields.
And now a little bit of information on those VERY important yields :
Rental yields in small flats in Berlin (30 - 75 sq. m.) are generally higher than other sized units, at 7% - 7.35%.
Bigger properties have yields at 5% to 5.5%. Rental yields for Frankfurt flats range from 5% to 6.6% while Munich flats have lower yields, at 4.4% to 4.6%.
One of the most important things about why Germany is a very viable property investment destination, is that more Germans live in rented accommodation than in their own homes. About 58% of households are renters, which is one of the highest proportions in the world !!!

Development Overview - Peter Vischer Strasse, Berlin

Although Horizon Consultancy have more than one investment opportunity in Germany , I think that the Peter Vischer Strasse in Berlin is the best option.
Here is why:
The Peter Vischer Strasse is situated in the Schaneberg area which is one of the most popular and desirable residential areas of Berlin.


This premier six-storey residence overlooks a beautifully maintained communal garden area, and is situated just a few minutes' drive from the world-famous Kurfarstendamm shopping avenue.


It was originally constructed during the rebuilding of Berlin during the Fifties & has recently had major renovation work done which has now been completed. (We wouldn't want you living / buying a bomb shelter now, would we?? :)


Strolling around the private garden area that is encapsulated by these apartments you get a real feel of quality construction combined with modern standards, and all the time in keeping with its history and charm.
The Important Facts on the Development :
As an average, only 15% of the population of in Berlin own the respective house that they are living in.


Over 40% of the apartments in Peter Vischer Strasse are owned by the tenants themselves, therefore solidifying the attractiveness of these apartments.


Along with the option of a 10-year rental guarantee and an interior renovation of the apartment, this proposal really is as close as you can get to a perfect investment vehicle.
Capital Gains tax is not applicable if the apartment is owned for 10 years or more, and sold thereafter.


Surrounded by a wide variety of shops, restaurants and bars and within walking distance of the underground, this property offers investors a tremendous opportunity to claim a stake in Europe 's youngest capital.
The trendy Schaneberg district - birthplace of Marlene Dietrich - is renowned for its bohemian atmosphere and style, and the network of cool coffee shops, curious boutiques and trendy "places to be seen", is ever-more beguiling.
Conclusion:

Germany , although not without its inherent problems such as high unemployment, is in a unique position to record excellent growth over the next few years.
Growth in Berlin alone has been predicted between 10-15% for the next 10 years & will have a good chance of meeting these expectations due to the recent Soccer World Cup investments and exposure experienced.
Mortgage deregulation is on the horizon (as happened in UK in late 1970s where suddenly people could buy without having to produce 25-40% deposits).
(Sources:
http://www.globalpropertyguide.com/
,
http://www.wikipedia.org/
Reuters & Daily Telegraph)